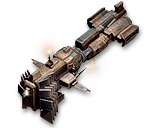 Cyclone
Tech Level: VII

Minmatar
---
The Cyclone was created in order to meet the increasing demand for a vessel capable of providing muscle for frigate detachments while remaining more mobile than a battleship. The Cyclone's multiple high-power slots and powerful thrusters have proved ideal to this end.
Bonuses
Role Bonus
+25 Flight Velocity
+1 Command Burst module slots
Advanced Medium Missile/Torpedo upgrade Bonus per Lv.
–5 Activation Time
+5 Explosion Velocity
Battlecruiser Command Bonus per Lv.
Attributes
Can be insured: No
Cargo Hold Capacity: 900 m3
| | |
| --- | --- |
| Powergrid Output | 708 MW |
| High Slots | 6 |
| Mid Slots | 3 |
| Low Slots | 5 |
| Drone Slots | 1 |
| Engineering Rig Slots | 3 |
| Powergrid Rig Slots | 3 |
Defense: 24,816
 
Shield
7,825 / 84,400 S
Armor
6,965
Structure
6,169
Electromagnetic
0.00%
60.00%
33.33%
Thermal
20.00%
35.00%
33.33%
Kinetic
40.00%
25.00%
33.33%
Explosive
50.00%
10.00%
33.33%
Capacitors: 2,421 GJ
Capacitor Recharge Time
528 S
Max Capacitor Recharge Rate
11.5 GJ/S
Max Locked Targets: 6
Signature Radius
202.3 m
Scan Resolution
196 km
Sensor Strength
14.9
Flight Velocity: 214 m/s
Warp Speed
2.7 AU/s
Mass
12,400,000 kg
Inertia Modifier
0.48 times
---