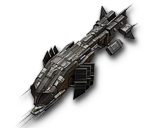 Thrasher Covert Ops
Tech Level: X

Minmatar
---
These people from the Republic University just showed up during the Elder's meeting, hid themselves, then reappeared at an unexpected location, spraying tons of ammunition. Just what you would expect from a Thrasher.
Bonuses
Role Bonus
+25 Optimal Range
+1 Max Covert Ops Cloaking Devices
Advanced Destroyer Defense Upgrade Bonus per Lv.
+5 Flight Velocity
–4 Signature Radius
Advanced Destroyer Command Bonus per Lv.
Attributes
Can be insured: No
Cargo Hold Capacity: 800 m3
| | |
| --- | --- |
| Powergrid Output | 61 MW |
| High Slots | 4 |
| Mid Slots | 3 |
| Low Slots | 4 |
| Drone Slots | 0 |
| Engineering Rig Slots | 3 |
| Powergrid Rig Slots | 3 |
Defense: 5,981
 
Shield
1,886 / 13,400 S
Armor
1,679
Structure
1,487
Electromagnetic
0.00%
60.00%
33.33%
Thermal
20.00%
35.00%
33.33%
Kinetic
40.00%
25.00%
33.33%
Explosive
50.00%
10.00%
33.33%
Capacitors: 646 GJ
Capacitor Recharge Time
227 S
Max Capacitor Recharge Rate
7.1 GJ/S
Max Locked Targets: 7
Signature Radius
36 m
Scan Resolution
664 km
Sensor Strength
12.4
Flight Velocity: 333 m/s
Warp Speed
5.5 AU/s
Mass
1,235,000 kg
Inertia Modifier
1.9 times
---