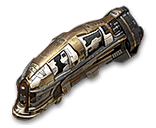 Bestower
Tech Level: VI

Amarr
---
The Bestower been used by the Empire as a slave transport, shipping human labor between cultivated planets in Imperial space, for decades. As a proof to how reliable this class has been through the years, the Emperor himself has used an upgraded version of this very same class as transports for the Imperial Treasury. Furthermore, it has very thick armor and large cargo space.
Bonuses
Role Bonus
Advanced Industrial Ship Defense Upgrade Bonus per Lv.
Advanced Industrial Ship Command Bonus per Lv.
+5 Structure Hold Capacity
Attributes
Can be insured: No
Cargo Hold Capacity: 5,300 m3
Facility Hold Capacity: 17,000 m3
| | |
| --- | --- |
| Powergrid Output | 316 MW |
| High Slots | 2 |
| Mid Slots | 2 |
| Low Slots | 3 |
| Drone Slots | 0 |
| Engineering Rig Slots | 2 |
| Powergrid Rig Slots | 2 |
Defense: 6,987
 
Shield
1,504 / 23,100 S
Armor
2,215
Structure
1,810
Electromagnetic
0.00%
50.00%
33.33%
Thermal
20.00%
35.00%
33.33%
Kinetic
40.00%
25.00%
33.33%
Explosive
50.00%
20.00%
33.33%
Capacitors: 1,862 GJ
Capacitor Recharge Time
474 S
Max Capacitor Recharge Rate
9.8 GJ/S
Max Locked Targets: 6
Signature Radius
119.5 m
Scan Resolution
139 km
Sensor Strength
9.5
Flight Velocity: 127 m/s
Warp Speed
3 AU/s
Mass
13,500,000 kg
Inertia Modifier
0.71 times
---