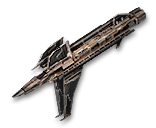 Maelstrom
Tech Level: IX

Minmatar
---
With the Maelstrom, versatility is the name of the game. Its defensive capabilities make it ideally suited for small raid groups or solo work, while its multiple turret hardpoints present opportunities for untold carnage on the fleet battlefield.
Bonuses
Large Cannon Operation Bonus per Lv.
Battleship Command Bonus per Lv.
Attributes
Can be insured: No
Cargo Hold Capacity: 1,100 m3
| | |
| --- | --- |
| Powergrid Output | 14,317 MW |
| High Slots | 8 |
| Mid Slots | 3 |
| Low Slots | 6 |
| Drone Slots | 2 |
| Engineering Rig Slots | 3 |
| Powergrid Rig Slots | 3 |
Defense: 47,076
 
Shield
14,843 / 250,100 S
Armor
13,213
Structure
11,702
Electromagnetic
0.00%
60.00%
33.33%
Thermal
20.00%
35.00%
33.33%
Kinetic
40.00%
25.00%
33.33%
Explosive
50.00%
10.00%
33.33%
Capacitors: 7,757 GJ
Capacitor Recharge Time
902 S
Max Capacitor Recharge Rate
21.5 GJ/S
Max Locked Targets: 8
Signature Radius
288.9 m
Scan Resolution
122 km
Sensor Strength
24.2
Flight Velocity: 136 m/s
Warp Speed
2 AU/s
Mass
103,600,000 kg
Inertia Modifier
0.136 times
---